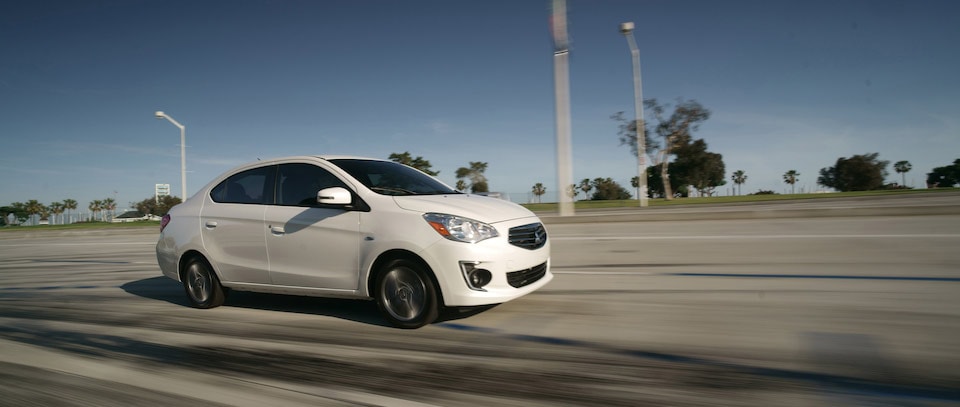 These days, the lack of subcompact vehicles in the sedan style are few and far between, and it's even more seldom to find one that reminds one of the joy of simplicity. But that's a mission that the Mitsubishi Mirage G4 accomplishes with pride, an astonishingly-accessible starting price, and superb gas mileage. But granting you savings is just part of this four door's charm, especially when you consider it comes with one of the most comprehensive standard warranties in its class.
The Mirage G4 splits the difference between "small and cute," and "small and sporty." A handsome chrome grille offset the cute factor somewhat, while the car's stubby proportions make it look nimble, and lend to its excellent gas mileage. There's also a surprising array of colors to choose from, ranging from the expected, to more eye-catching swatches like orange Infrared, or Wine Red.
On the inside, the Mirage G4 features class-leading total leg room, and standard amenities like keyless entry, a back-up camera, USB port, and push button start. Moving up trims brings a larger infotainment system with Apple Carplay and Android Auto smart phone integration-features you don't normally find in subcompact models-and available cruise control. With 12.3 cu-ft of trunk space, you can accommodate anything from sport bags to gear for your band's next gig. There's even a pass through for longer items.
Powering the Mirage G4 is a diminutive 1.2-liter inline-three. Although 78 horsepower and 74 lb-ft of torque may not sound like much, but it packs ample punch when you need it, while returning the kind of gas mileage figures that might make you check for a hidden "hybrid" badge. But it's no gimmick. Equipped with the manual transmission, Mirage G4 owners can expect 33 mpg city, 40 mpg highway, or 35 mpg city and 42 mpg highway with the automatic CVT. When it comes to saving on fuel, the Mirage G4 has your back.
Mitsubishi Mirage Trim Levels
The Mitsubishi Mirage G4 comes loaded with standard and optional features that you will be happy to have. Contact Fairfield Mitsubishi to take a look at the available trim levels to determine which type of Mitsubishi Mirage G4 you wish to drive home. There are three options available to you.
Mitsubishi Mirage G4 ES
The ES is a four-door sedan that will give you more than an EPA-estimated 30 MPG of fuel efficiency. Just because it is small does not mean it is not powerful. You will get a five-speed manual overdrive transmission with a great 78 horsepower and 1.2-liter engine. To further customize it, you will have your choice of seven exterior colors.
Mitsubishi Mirage G4 LE
If you are looking for even better gas mileage, the LE will get you near an EPA-estimated 40 MPG. It also has a 78-horsepower and 1.2-liter engine. What separates the LE from other trim levels is its two-speed CVT with overdrive transmission. This is a front-wheel drive vehicle that will give you years of reliable transportation. With a choice of seven exterior colors, you can also have it look just the way you envisioned in your dreams.
Mitsubishi Mirage G4 SE
The SE has an automatic transmission and a 78-horsepower engine. It has an electronic control transmission and an axle ratio of 3.76. In short, the Mitsubishi Mirage G4 SE will give you great gas mileage and a lot of power to boot.
No matter which of these trim levels you decide is best for you and your family, you will be getting a practical vehicle that is a lot of fun to drive. Stop by Fairfield Mitsubishi to take a look at our inventory and take a test drive. You will be glad that you did.
If you're interested in experiencing the Mirage G4 sedan, our Mitsubishi dealership in Fairfield, CT would be happy to have you. Contact our showroom at your convenience, and we can answer any questions about vehicle or warranty, and schedule your test drive.
New Mitsubishi Mirage G4 & Mirage Inventory