Compare the All-New Mitsubishi Outlander PHEV to the Plug-In Competition
Plug-in hybrids are popular these days, and more and more car companies are releasing new models with this innovative, fuel-sipping technology. But, very few of them can claim to offer the three spacious rows of seating, cavernous cargo space, and all-wheel drive of an SUV. Add in legendary Mitsubishi quality and style, and you get the new, Mitsubishi Outlander PHEV we have available here at Fairfield Mitsubishi.
The Mitsubishi Outlander PHEV (which stands for "plug-in hybrid electric vehicle"), is a brand-new model from our favorite carmaker. It combines everything we love about the original Outlander, including the incredible warranty and seating for seven people, in a fuel-efficient, emissions-reducing, SUV that can go 22 miles on electric power alone.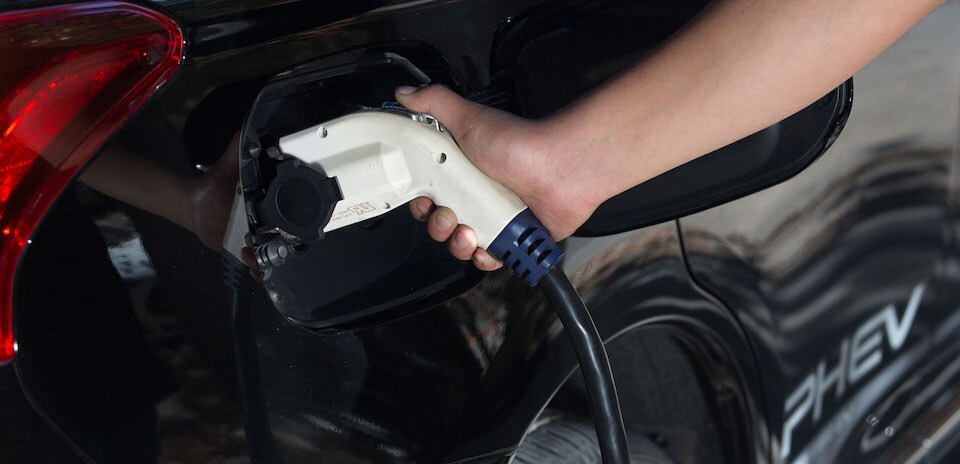 Mitsubishi Outlander PHEV Plug-In
As groundbreaking and exciting as this new Mitsubishi model is, we know it's not the only plug-in hybrid SUV available here in the Connecticut market. Plenty of carmakers are also striving to give their customers efficient hybrid SUVs. But, we think Mitsubishi has hit a homerun with this new model, and we've compared it to another new plug-in hybrid SUV to illustrate that point.
The Mitsubishi Outlander PHEV vs. the Kia Niro Plug-In Hybrid
Size and space. The Outlander PHEV is a three-row, seven-passenger SUV. It's great for families with multiple children, and it delivers the fuel savings families want. The Kia Niro Plug-In, on the other hand, is a smaller vehicle. Only seating five people in its compact, two-row crossover style, the Niro Plug-In doesn't offer the space larger families in Connecticut need.
Drivetrain. Here in New England, where the weather can change quickly and road conditions can deteriorate in minutes, having an all-wheel drive equipped SUV is essential. The Kia Niro is a front-wheel drive only model. But, the Mitsubishi Outlander PHEV has standard all-wheel drive, thanks to its unique system that combines a four-cylinder gas engine and electric motor to power the front wheels, with a second electric motor that powers the rear wheels. Plus, the Outlander model has its own innovative computer processing system that can determine the best way to power all four wheels at any given moment, although drivers can also choose to manually select a four-wheel-drive lock if they want.
Power. In addition to offering standard all-wheel drive, the Outlander PHEV also gives you more power than the Kia Niro. Total hybrid system output for the Outlander is 197 horsepower, while the Kia total output is only 139 horsepower.
Cargo space. Despite the fact that the Outlander PHEV manages to squeeze in a third row of seating, that doesn't mean cargo space takes a negative hit. With some three-row crossovers, automakers sacrifice rear cargo space to put in the third row. That's not the case with this model, which still manages to give drivers around 11 cubic feet more storage room than the two-row Kia Niro.
Standard features and amenities. The Outlander PHEV also gives drivers more standard creature comforts and amenities right out of the gate than the Kia Niro. Every Outlander comes with standard heated front seats, Bluetooth with voice controls, and a dual-zone automatic climate control. The Kia Niro has these features, but most aren't available until drivers move up trim levels and spend more money.
Shop for the Mitsubishi Outlander PHEV in Fairfield
Ready to try out the latest Mitsubishi innovation in person? Stop by and visit us in person at Fairfield Mitsubishi, and try on an Outlander PHEV for yourself. See how Mitsubishi has perfectly mixed their legendary reputation for quality, with modern-day technology, to create this must-test-drive plug-in hybrid SUV.