Here's Why A new Mitsubishi Mirage Beats a Used Car
Torn between purchasing an affordable Mitsubishi Mirage brand new or a used vehicle? There are many benefits to buying used, to be sure. And here at Fairfield Mitsubishi, our used inventory has plenty of compelling options from which to choose with low mileage on the odometer. Still, if you're worried about buying used because you'd prefer the warranty coverage and peace-of-mind that come along with purchasing a new vehicle, we have a fantastic option for you - the new Mitsubishi Mirage compact car.
All About the new Mitsubishi Mirage
Modern Technology & Convenience Features
The new Mitsubishi Mirage and Mirage G4 provides you all the latest features you want from your next vehicle - features you won't find in many used vehicles. From the latest available infotainment technologies that let you sync up to your smartphone and all its content, to niceties like available keyless entry and push-button start, to a range of styling and comfort amenities, the Mirage opens up a whole new world of more comfortable, more modern motoring for you in Fairfield and beyond.
Practicality & Efficiency
In addition to a wide range of comfort & convenience features, the new Mirage is also among the more practical small vehicles you can purchase, thanks to its functional five-door design. The fifth-door hatch opens to allow easy unloading and loading of cargo, providing all the convenience of an SUV without the extra cost or sacrifice in fuel efficiency. In fact, a total of nearly fifty cubic feet of storage space for cargo, luggage, or oversized items means there's almost nothing the Mirage can't accommodate for your busy lifestyle. And, while we're on the subject of efficiency, we'd be remiss to not mention that the new Mirage gets up to 36 mpg highway and up to 43 mpg city. Compare that to an older pre-owned car or SUV, which may be less efficient for a variety of reasons, and the Mirage becomes even more attractive. What's more, the new Mirage offers the full benefit of a 5 year/60,000 mile basic new vehicle limited warranty and a 10 year/100,000 mile limited powertrain warranty which no used car can match.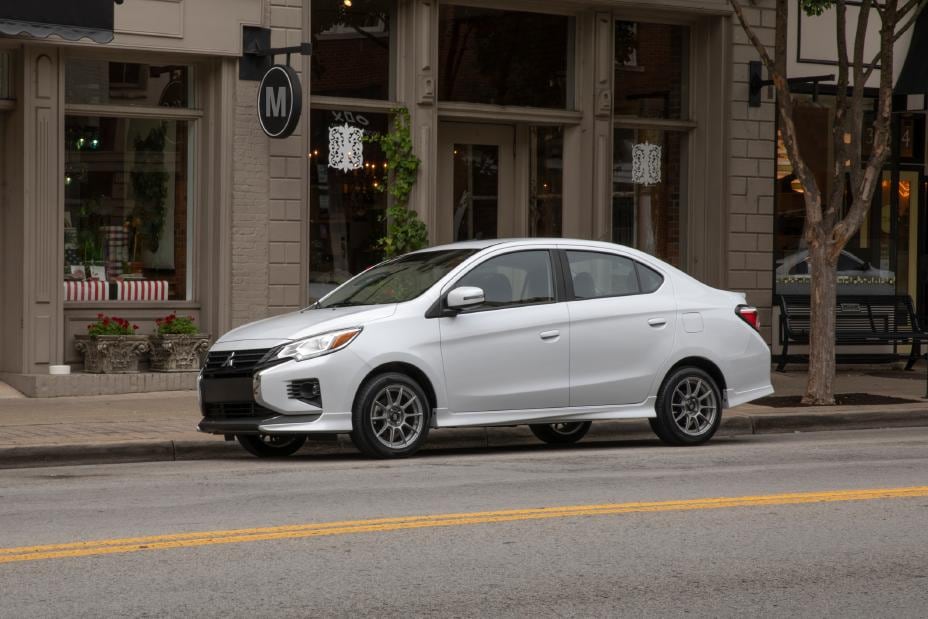 Mitsubishi Mirage Trims & Options
Whether you're looking for the most basic new vehicle that gets you from point A to point B efficiently, affordably, and reliably, or something with a bit more value-for-your-money, the new Mitsubishi Mirage model lineup has a perfect option for you. Not only does the Mirage Hatchback come in four trims: ES, LE, Carbonite Edition, and SE, but there's also the G4 sedan model with four trims, ES, LE, Carbonite Edition, and SE available.
While our used inventory will offer numerous makes and models, we can't always guarantee that we'll carry a specific trim model in stock. We offer pre-owned models based on what is sold to us, so we can't control what we are offered through sales and other means. We'll do our best to match you with used trim models, but if you want to guarantee a model that suits your needs, our Mitsubishi Mirage inventory offers all the trim levels available to the lineup - if we don't carry it, we'll order it! Interested in comparing Mirage models or seeing how the Mirage model lineup compares to buying another used vehicle? Contact us today at Fairfield Mitsubishi to explore the many benefits of buying or leasing a new Mirage vs. a used car.
Contact or Visit Us for a Test-Drive
Ready to experience a new Mitsubishi Mirage near Fairfield, CT? Contact or visit us today here at Fairfield Mitsubishi to test-drive a new Mirage and you'll see for yourself exactly why we say the Mirage beats out other used vehicles for its value, warranty coverage, and modern features.